Digital advertising is dropping off right now because companies are curtailing their spending amid worries of an economic downturn. It might be tempting for you to turn off your ads and do the same — but for the savvy marketer, there's actually more to be gained by continuing to spend on digital advertising when there's less competition.
Invest in an effective ad strategy to gain quality leads at a time when your competitors' pipelines are drying up. Instead of cutting back, take advantage of the uncertainty and grab more market share through a Person-Based Advertising strategy.


Paid media spend is down in 2022, and your competitors are vulnerable
Major platforms like Facebook and Instagram have seen revenue drop off this year as companies scale back on advertising spend. Your competitors are likely among them. They're vulnerable to losing market share, prospects, and conversions to brands like you — as long as you stay invested in paid media.
Facebook, Meta, Twitter, and Snap are all seeing less ad revenue this year, which is impacting quarterly earnings. Meta's revenue is down 3%, which is notable because this is the first time they've ever reported a quarterly decline. Alphabet, Google's parent company, also saw less ad growth than expected last quarter, marking a slowdown in ad spend.
Overall, July 2022 saw the worst decline in ad spend in two years in the U.S. The marketplace contracted 12.7% compared to July 2021, with advertisers pulling back in many categories. Economic uncertainty is forcing budgets to be trimmed across the board, meaning that many marketers need to rethink their approach for paid channels for the rest of the year.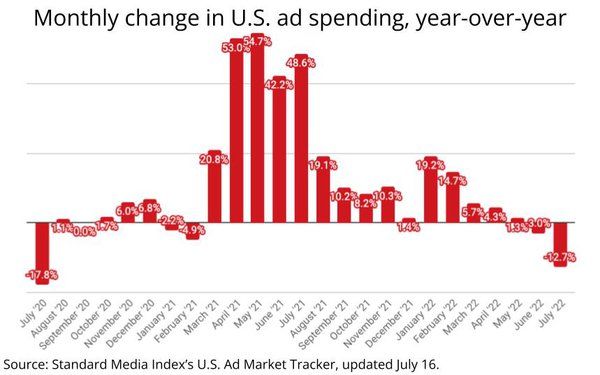 According to a survey conducted by Advertiser Perceptions, one in five marketers has reduced their ad spending — and no doubt some of your own competitors are sure to be included in that figure. The same survey data shows that even though four out of five marketers plan to once again increase spending by Q4, their focus will be on customer retention — not gaining new customers. As they make these strategic decisions, they risk reducing their presence and position in the market.


Cutting your own ad budget will hurt your ROI
You could adopt the same mindset, cut back your paid ad spend, and add a few extra dollars to your budget for the year to try and squeeze some short-term results in other areas. But long term, you'll be damaging your brand and shortchanging your sales team with a paltry pipeline of leads.
Analytics Partners analyzed marketing practices during challenging economic times to determine the best approach for maintaining effectiveness. The company found that during the last recession, 60% of brands that increased their spend actually saw improvements in their ROI. This is notable for a couple of reasons:
Some brands are bold enough to go against the overarching mindset of playing it safe with their ad budgets and instead recognize the opportunities at hand from a shifting economic climate.
They're rewarded for doing so.
The brands that increased their advertising investment also saw a 17% increase in incremental sales. More than half of these companies saw growth in back-to-back years, signaling that there's serious potential for long-term gains when you make paid media investments over competitors. The report also found that your brand can lose 15% of its business if competitors double their marketing investments while you're cutting back.
Outperform the competition and hit your sales targets for the year by at least maintaining your advertising spend, even in a downturn. You'll protect your own position and outpace your competitors' spend as they likely make cutbacks. You can gobble up their market share that way.
Plus, they'll be turning away their own leads as they cut back on top-of-funnel paid media spend, like display and social ads. That leaves plenty of opportunities for you to fill your pipeline with fresh, interested prospects. But to see the largest return on investment, you need to increase your own spend wisely with a results-driven platform and strategy.


Person-Based Advertising is the best way to see results through smarter spending
Person-Based Advertising (PBA) is a strategy for reaching specific individuals and decision-makers at target accounts with relevant ads — no generic messaging or tactics.
Think of a traditional paid ad campaign — let's say you're running it through Google's display network. You create a set of ads for your audience. The only thing that changes is the size of the ads, but otherwise, everyone in your audience will see the same set.
You might decide to tweak your messaging and create other versions if you have multiple buyer personas. Or you might create a different ad set that directs to a separate landing page based on the keyword you're targeting. Apart from that, your ads won't be personalized or specific. There's no way to ensure that your ads are directly relevant and engaging to your audience members based on their companies, buying roles, or unique challenges.
You also can't see who's viewing your ad or when they engage, until they actually convert on your website. They're stuck in the "dark funnel" even if they actually click your ad, read your content, or watch videos before finally submitting a form.
But with Person-Based Advertising (PBA), all of those insights are clear to you and your sales team. More importantly, you're creating a more meaningful and engaging experience for your prospects, with ads and content that serve their interests and goals. PBA works by identifying the key decision-makers within your buying group and then serving up ads directly to them.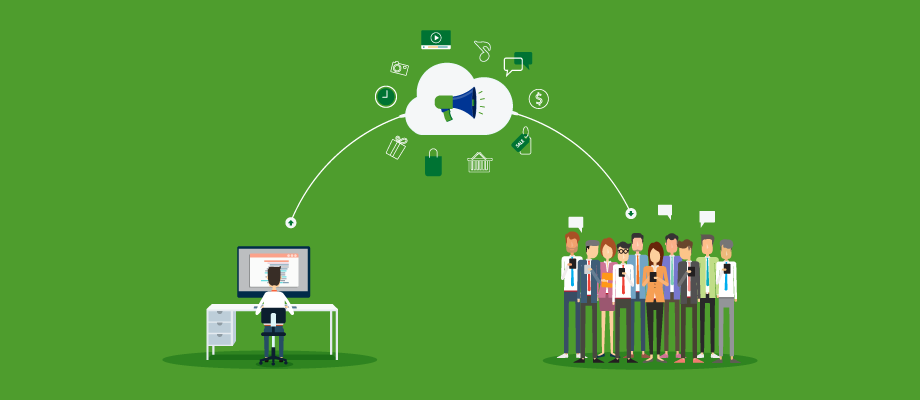 Use a PBA strategy to craft campaigns that are personalized to your buying group, with ads, copy, and follow-up content flows that are relevant to their journey. Every dollar counts with an economic downturn looming, and PBA is the most effective way to reach prospects directly and move them through your funnel. You'll also be enriching your engagement data and providing more context for your sales team to use later on, gaining higher ROI than you would with a generic paid media strategy.


Drive up revenue and beat competitors to deals and customers with Influ2
To successfully target your key decision-makers with a PBA strategy, you need a platform that can drill down to the individual level and serve highly targeted ads to personalized targets. Account-Based Marketing platforms won't do; for Person-Based Advertising to be successful, you can't just target an entire account; you must target specific decision-makers within that account.
Influ2 is the world's first Person-Based Advertising platform, delivering more value for your advertising dollars by placing your ads directly in front of the people you care about most. Serve up personalized campaigns and leverage detailed campaign metrics to gain an edge while your competitors are cutting back. Influ2 delivers higher ad campaign engagement and conversions, which ultimately translates to more deals won and closed for your sales team.
By switching to a Person-Based Advertising strategy, ProfitWell saw a 70% increase in eComm industry leads, a 67% increase in conversions, and a 111% increase in Enterprise deals won. The company added pipeline at every stage of the journey — and those leads and conversions would be even more valuable to a brand as budgets tighten in a downturn. Learn how ProfitWell did it using Influ2's platform.