Nvidia & Influ2 at B2BMX conference: New approach to ABM strategy
Share



Last year's B2BSMX had brought lots of inspiration and fruitful connections for us, but this year's B2BMX provided even bigger value. It was a pleasure for me to take the stage together with Aristomenis Capogeannis, director of revenue marketing at NVIDIA. We hold the session discussing why B2B marketers need a people-based strategy in the ABM-focused world.
WHY WE WERE TALKING ABOUT PEOPLE-BASED STRATEGY IN ABM?
Here are the main questions we addressed during the session: Why do account-based marketing campaigns rock, but sales say that they're no results? Are ads even getting in front of actual decision-makers? Are ABM campaigns getting to people through the noise of the irrelevant ads?
In light of the pandemic's impact, a people-based approach to account-based marketing strategy is essential. It simply drives more relevant and meaningful digital engagement. As a result, PBM improves conversion rates by actually connecting with decision-makers.
CURRENT STATE OF PERSON-BASED MARKETING
Many B2B marketers don't understand how to apply PBM to their account-based marketing tactics yet. So, Aristomenis and I felt like this was an important topic to talk about. Especially, as marketers continue to navigate a post-pandemic world.
A successful person-based approach involves more than the deployment of new ABM technology. Marketers need to reconsider strategy, sales and marketing alignment, and measurement.
SPEECH OVERVIEW
Aristomenis Capogeannis compared the lead generation approach to account-based orchestration. As a B2B marketer, he's already switched from the old school to the new one — from generating many leads to reaching exact accounts. He also explained how Influ2 was implemented at Nvidia and shared a case study. Using Influ2 significantly boosted Nvidia's account-based marketing metrics, since we started working together.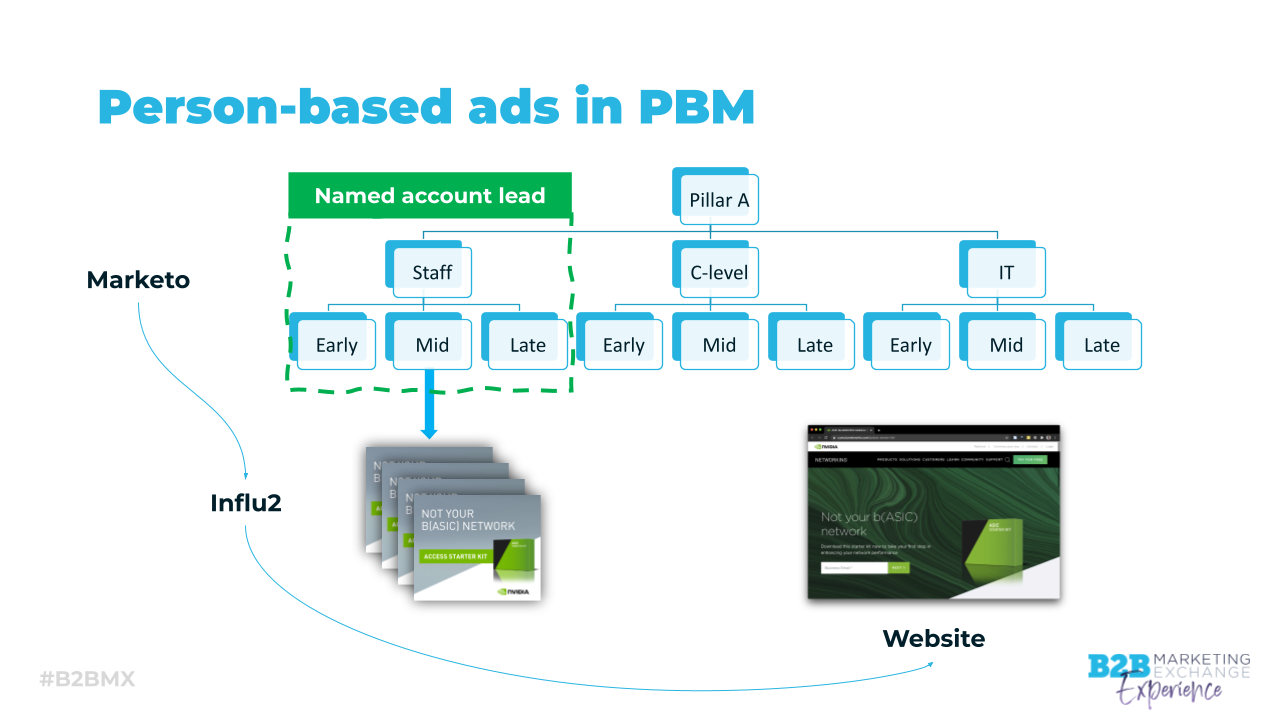 From our side, I've shared the initial inspiration that led me to launch Influ2, and offered a new perspective on how the account-based marketing funnel should look like. There's a deep need to shift from targeting random company employees to a high-resolution ABM approach. And, now this is possible. Our platform enables marketers to reach decision-makers from the dream accounts.
The inspiration behind person-based marketing (PBM)
How PBM works in ABM and how marketers can benefit from it
Real-world examples of successful PBM campaigns
The future of B2B marketing in a post-pandemic world
How marketers can capitalize on the current business climate
Nvidia marketing strategy outline, in terms of account-based marketing programs

Hope to meet you next year at B2BMX2022!